I promised you more Orzo recipes and this one is soooo good!
Make it today and let those flavors marinate overnight and you'll have a delicious and filling salad to enjoy all week!
The delicious ingredients…
ignore the red wine vinegar though…he's just photo bombing…that's how red wine vinegar can be…
Imagine a red onion in it's place…then the universe will be just right…
Chop your tomato into tiny pieces…
Do the same with the red pepper…
and the cucumber…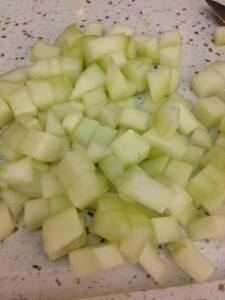 and the red onion…
Throw it all in a large bowl…
Add the Morton's Nature Seasons…
and the Italian Seasoning…
and the kale…
add the olive oil and the lemon juice…
Give it a good stir and refrigerate overnight.
Enjoy!
Print
Orzo & Veggie Salad Recipe
1 cup

orzo, cooked as per package directions and set aside to cool

1

tomato, diced small

1 cup

diced cucumber

1/2

red onion, diced small

1

large handful baby kale, chopped small and discard tough stalks

2 TBSP

lemon juice

1/3

c olive oil

2 tsp

Morton's Natures Seasoning

2 tsp

Italian Seasoning
Instructions
Cook orzo as per package directions, drain; set aside to cool.
In a large bowl, combine cooled orzo, tomato, cucumber, onion and kale.
Pour the lemon juice and olive oil in next and add the seasonings; stir until combined.
Let marinate in the refrigerator overnight.
Add more seasoning to taste. Enjoy!