We have a new addition! A brand new "grand puppy" 🙂
Jessica is back home for a while and because none of us enjoys sleeping in,and relaxing,
we now have a Great Dane– Husky Mix added to the household!
He's really rather sweet and funny and loves Jessica to death.
The first time I baby-sat for her, he looked for her all over the house and then the yard.
He was sure he had left "his girl" somewhere 🙂
He did calm down and finally accept me as the surrogate for a while.
When she came in though we had fallen asleep on the couch.
There is a rule that he cannot get on the couch because, I was informed, when he weighs
150 pound
and is 7 feet tall, that will not be a good thing.
He also cannot have "people food".
Poor baby! He will never know how good these Southern delicacies are!
I told her I think there are just too many rules and parents just over-react 🙂
It was just like when Jessica, Kaia and I were in the truck the other day and Kaia asked
if she could roll down her window.
"Of course you can my sweet baby", I said.
Jessica looks at me and said, "You never let us roll our windows down."
Oh, how things change when you're a Grandma to precious grandchildren and floppy eared puppies. 🙂
Apollo
Grandma, Kaia and Noah
Sharing our favorite Pineapple Upside Down Cake recipe today!
Iron Skillet Pineapple Upside Down Cake
1 stick butter
1 1/2 c dark brown sugar
8 oz pineapple rings, drained and juice reserved
Maraschino cherries
1 box Duncan Hines Pineapple Cake Mix
1 tsp vanilla butternut flavoring
Preheat oven to 350 degrees.  Place stick of butter in large iron skillet.  This is the main reason that I believe this cake is so delicious–the iron skillet.
My Mom and Granny cooked their upside down cakes this way.
Set skillet  in oven to melt the stick of butter.
When melted, add the brown sugar and stir until smooth.
Drain Marachino cherries. Don't they look wonderful and yummy?
What I love about this recipe is that you place all the cherries in the skillet that you want for the cake AND THEN….you can eat the remainder….whether there are 3 or 33 left!!
  (Does anyone love these cherries as much as I do?) 🙂
  The only thing that was sad today was that there was only 1 left…sigh….
(note to self—buy more Marachino cherries…)
  Open pineapples and drain, reserving juice.    Place pineapples in the brown sugar mixture in skillet.  Place maraschino cherries in and around pineapples.
Mix cake mix as directed on box but substitute the reserved pineapple juice for the water
 (adding water to make up the difference if needed).
Add remaining ingredients to cake mix and pour over fruit in skillet.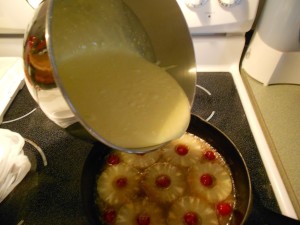 Place in oven and bake 40-45 min until done. Let sit in skillet on cooling rack for about 30 minutes. This gives the cake time to soak up all the wonderful gooey butter and brown sugar mixture.
It's considered a crime if a drop of it is wasted!
  Then turn the cake out onto plate and enjoy!