Fall is just my favorite time of year!
The colors, the decorations and the FOOD just makes my heart happy!
When we go to Gatlinburg this time of year or to the Fair, the yummy aroma of the sausages with peppers and onions just gets me every time!
This recipe is soooo easy!
Italian Sausages, peppers, onions and some awesome Martin's Potato Rolls is all you'll need!
I wanted to try this recipe out in my Instant Pot to show how easy and quick it is to prepare a meal!
When I got this all going, I had time to get some much needed housework done!
.I used the sauté feature to get a good sear on all sides of the sausages…
This took about 10 minutes or so…
I threw a couple of tablespoons of butter in the pot…then the sausages…and the party began!
While you're turning the sausages every few minutes, you'll have the time to cut up the peppers and onions…
When the sausages are done, drain on a paper towel…
Toss the peppers & onions in the pot and then add the sausage on top…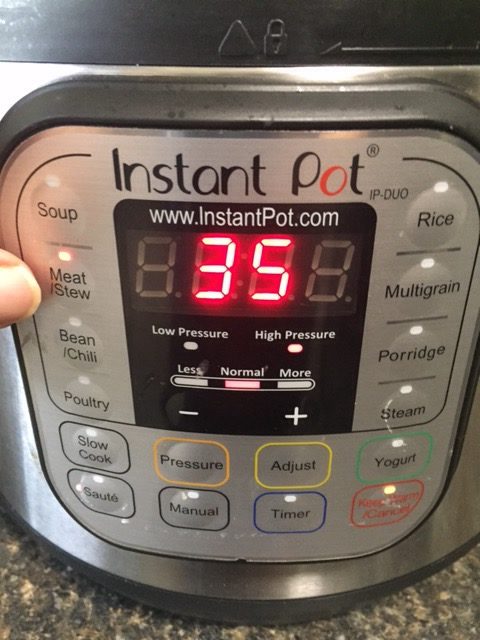 Make sure the Instant Pot valve is set to "Sealing" and choose your cooking setting…
I chose the Meat/Stew setting for 35 minutes…
Perfection!!
Layer the sausage, peppers & onions
on that buttery roll…
I topped it with some mustard
and enjoyed every last bite!
Print
Instant Pot Italian Sausage Hogies Recipe
6

–

8

Italian Sausages

2

sweet onions, sliced

4

peppers, multiple colors
Martins Potato Buns

2 TBSP

butter
Instructions
I'm making this recipe in my Instant Pot but you can easily convert it to a grill or a slow cooker recipe.
Select the instant pot feature to Saute'.
Spray hope pot with nonstick spray and add 2 TBSP butter.
Sear the sausages on all sides turning every few minutes; when done, drain on paper towels.
Add the sliced peppers and onions to the pot and then the sausages on top.
Set the Instant Pot to "sealing" and then select the cooking feature to "Meat/stew".
When cooking feature shuts off and switches to warm, you can then switch the valve to "venting" to release the pressure.
Place a sausage and a good helping of peppers and onions on each bun.
Add any additional condiments that you like and enjoy!