Floats are just fun!
And floats based on our very favorite Harry Potter theme are absolutely magical!
The absolute must for these floats is the creation of this homemade buttery sauce…my cute assistant is placing the butter in the saucepan…
Add the brown sugar next…
stir continually over low heat until sugar is dissolved…
Carefully pour in the whipping cream…
Pour in the flavoring…
Place this delicious sauce in a bowl and refrigerate a couple of hours or overnight until completely cool…
Now that the sauce is cold the magic can begin!
In your glasses layer the delicious butterbeer sauce…
Then some ice cream…we used vanilla …
Then a bit of cream soda…
And repeat those amazing steps again!
A&W Cream Soda…be still my heart!!!
Oh my!!!
Whipped cream is a must!!
And just a little bit more of that magical sauce!
Now using her wand to cast that spell…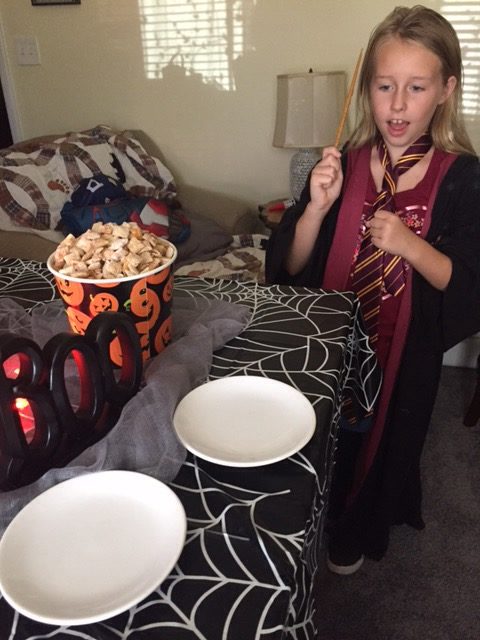 Perfection!
She's AMAZING!!!
And pleased with herself I must say!
Even Captain America showed up for the party and gave me his most serious super hero face…
Picture perfect and delicious!
Print
Halloween Butterbeer Floats Recipe
Butterbeer Sauce: 1 TBSP Vanilla Butternut flavoring

2 cups

of heavy cream

1 cup

brown sugar

1

stick butter
Remaining ingredients :

1

bottle of your favorite cream soda…cold….we used A&W
Vanilla ice cream
Instructions
Making the sauce:
In your saucepan, place the stick of butter and brown sugar; stir over low heat until sugar is melted.
Stir in the cream and bring to a boil; quickly reduce the heat to low and stir for 5 minutes.
Remove from heat and add the vanilla butternut flavoring.
Pour into bowl and cover; refrigerate until completely cool.
The making of the magical floats:
In your glasses, layer 1/4 cup of the butterbeer sauce, a couple of small scoops of ice cream, and a bit of the cream soda; repeat the layers.
Finish with whipped cream and some drizzles of the butterbeer sauce.

Add straws and enjoy!

You will have extra sauce that will keep well in the refrigerator to enjoy on ice cream or any other delicious treat!