A Couple of weeks ago, I posted an incredible recipe using Grands Biscuits with Spinach Dip…(and the angels sang!)
Well, because I had originally purchased a case of Grands Biscuits, I pondered about what morning delicacy I could made along the same lines…
I totally love my Conecuh Cresent Bake so, I thought surely, the filling would work with the Grands…
I was totally right!!
Cut up the Conecuh Sausage into small pieces
and fry in a few tablespoons of oil…
Drain and add sausage back to pan…
Add the cream cheese and
the 1 1/2 cup shredded cheese …
Take the Grands Biscuits and
half each one…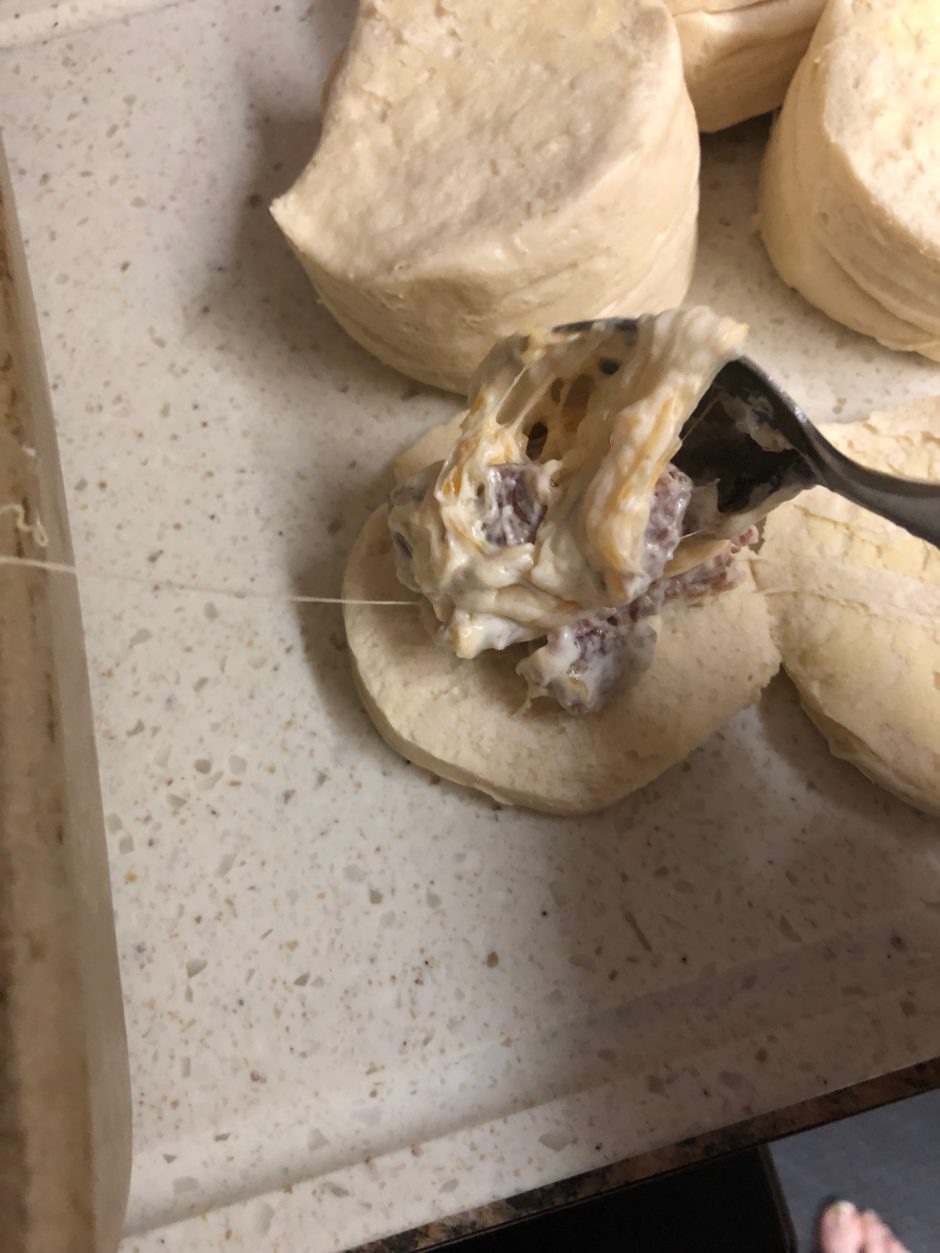 Place 2 TBSP of filling on each biscuit…
Place in your loaf pan like this…
Adding each biscuit half with the filling until
you've used all the roll…
Add the remaining 1/2 cup cheese on top…
Bake on 375 degrees for 20-25 minutes…
until it looks yummy and amazing like this!
Allow to sit 5 minutes…
Pull apart each slice with a spatula…
Swoon….
Enjoy every last bite!
Another tasty breakfast recipe in the books!
Print
Conecuh Grands Biscuit Bake Recipe
1

can Grands Biscuits

1/2

lb Conecuh Sausage ….If you can't get Conecuh brand in your area, you can use your favorite link or patty sausage

8 oz

cream cheese

2 cups

shredded Colby jack cheese

3 TBSP

oil
Instructions
Heat oven to 375 degrees.
Spray a loaf pan with nonstick spray; set aside.
Cut the sausage into small bite size pieces and fry in pan with the oil; drain and place back into frying pan.
Over low heat, add the cream cheese and 1 1/2 cups of the shredded cheese; stir until melted and combined.
Half each biscuit and begin to fill each one with 2 TBSP sausage mixture; stack into the loaf pan using all the biscuits and all the filling.
Place the remaining 1/2 cup shredded cheese on top.
Bake for 20-25 minutes until golden brown; let sit 5-7 minutes in pan before serving.