You know how I completely adore grits!
Well, my work friend, Robert and his wife Sharon, have taken them to a whole new level!
When I see Robert coming with that crock pot, I know our day is going to start out just right!
I hope these will transform your day as well!
This is how the morning magic begins…
Pour those grits into the boiling liquid and continually whisk…
No one likes lumpy grits!
After about 10 minutes you'll be able to add the remaining ingredients…
butter…
Cheese…
Look at that sausage!!!
Add the sausage, jalapeños and seasonings…
Stir until combined…taste to make sure the seasoning is just how you want it to be…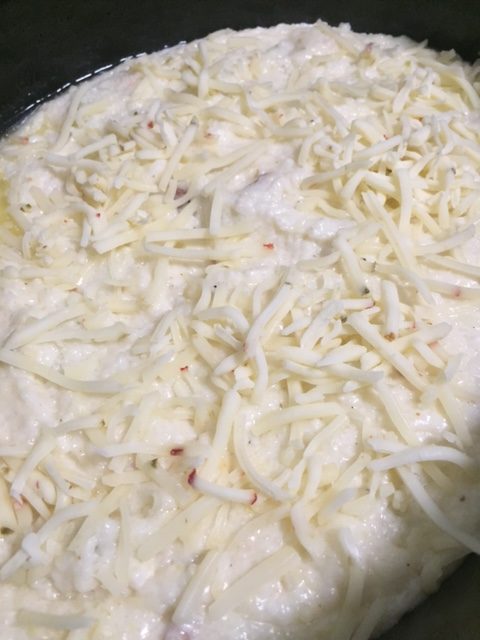 I placed them in my crock pot and added a bit more cheese on top…
I kept warm until our brunch event and they were beautifully cheesy like this!!
Enjoy!
Print
Sausage & Jalapeno Cheese Grits Recipe
4 cups

water

4 cups

milk

2 cups

grits grits

1

stick butter

8 oz

shredded PepperJack cheese

2 TBSP

chopped pickled jalapeños

1 TBSP

Tony Chacheres seasoning

1 1/2 tsp

salt

1 tsp

pepper

2 cups

cooked and chopped Conecuh or Hillshire Farm sausage OR

8 oz

patty sausage cooked and drained
Instructions
Bring water and milk to a boil.
Whisk in the grits, stirring constantly–you don't want lumpy grits!
Reduce heat to low while stirring and cook about 10 minutes until grits are smooth and thick.
Add the remaining ingredients and stir until combined.
Taste to make sure they are seasoned enough.
Enjoy!