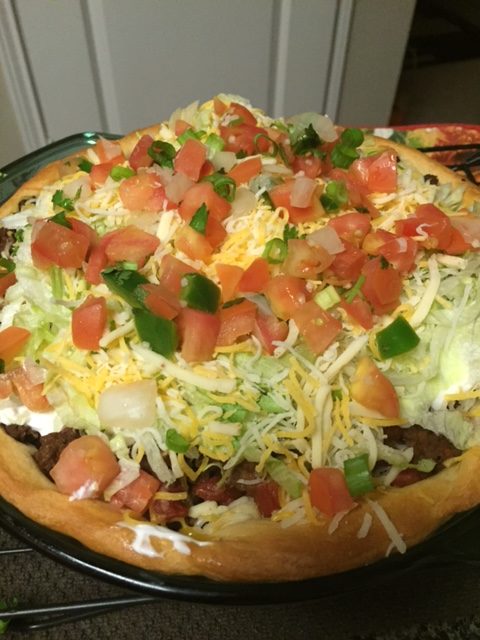 This is one of my favorite and easy recipes to fix for your family or company in a pinch!
And for a bonus it's also absolutely delicious!
Preheat your oven to 375 degrees.
Spray your deep-dish pie plate with non-stick spray…
Open your roll of crescents and press evenly in pie plate and make a pretty crust edge…
Place about 1 cup of Chili Cheese Frito's in the bottom of the crust…
Prepare the filling by cooking and draining 1 lb ground beef…
add it back to the skillet along with a package of taco seasoning and a can of Rotel …
cook on medium low heat for about 10 minutes until thickened and combined and add to the crust…
Add the cheese of your choice…
Bake for 25-30 minutes and it will be gorgeous like this !
Spread 3/4 cup of sour cream over the top…
Add the lettuce next…
Then with wild abandon, throw on tomatoes… Pico…green onions…cilantro…
Yes! That's perfect!
Cut into wedges and enjoy!
Print
Lisa's Chili Cheese Frito Pie
1

lb ground beef, cooked and drained

1

pkg taco seasoning

1

can Rotel

1

can Pillsbury Crescent Rolls

2 cups

shredded lettuce 1 1/2 cups shredded Mexican cheese

3/4 cup

sour cream

1/2 cup

chopped tomatoes

1 cup

pico

1/4 cup

chopped green onion

2 TBSP

chopped cilantro
Instructions
Preheat oven to 375 degrees.
Spray deep-dish pie plate with nonstick spray.
Open can of crescents and press into pan forming a crust. Add 1 cup Chili Cheese Fritos to bottom of crust.
Cook and drain ground beef; add back to skillet and poor in Rotel and package of taco seasoning.
Cook on medium low heat 10 minutes; pour into crust. Top with shredded cheese.
Bake 25-30 minutes until crust is brown.
Remove from oven and spread sour cream over the top.
Top with lettuce, tomatoes, pico, green onion and cilantro.
Cut into wedges and serve.