Those Red Lobster Biscuits…you know…the BEST part of going to Red Lobster!
Remember that happy day when you were minding your own business…checking items faithfully off your grocery list while shopping and you looked up…
And there it was…
Right there between the Gold Medal Flour and the Jiffy Corn Mix…
You knew you could now have these amazing little morsels at your beck and call any time! At the "big box clubs" you can even buy the mix by the pallet full!
That day on aisle 9 the angels sang and today, they have began their new #1 release…
Oh… are you gonna love it!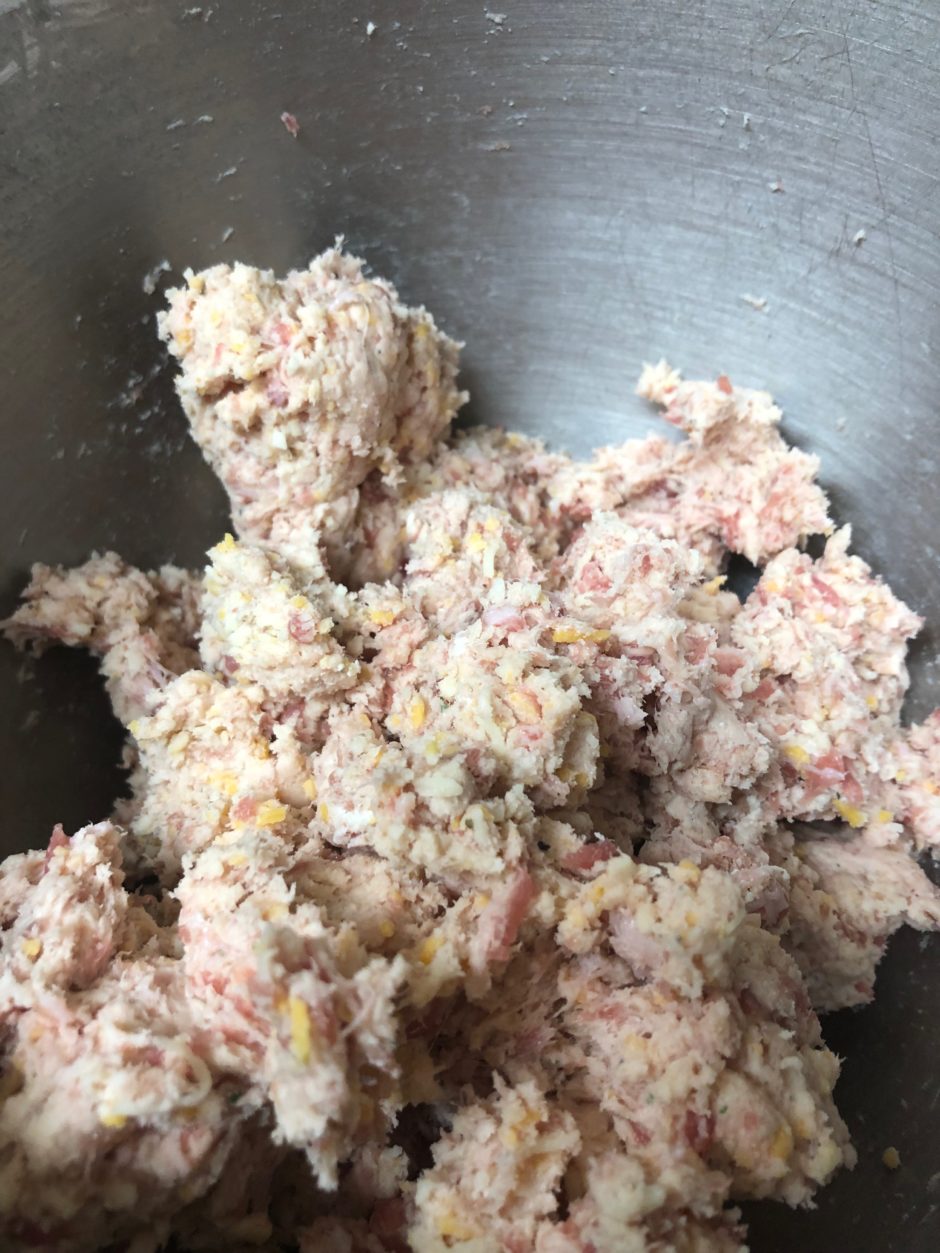 One of my favorite cooking memories
was when I was 17 and I spent Christmas
with my new sister-in-law
cooking up a storm for our Christmas Eve party!
She was the one that taught
me how to make traditional sausage balls
with Bisquick, cheese and sausage…
and they were pretty heavenly!
She adored cooking just as much
as I did and had a treasure trove of
family recipes to share…
I'd since learned to enhance
the sausage balls with cream cheese
for a creamier texture…
but now…
with the Cheddar Bay Biscuit Mix…
they are beyond enhanced and
on their way to pretty much
life altering!
Using my kitchen aid makes it
pretty darn easy to toss
the biscuit mix, the seasoning packet,
shredded cheese, cream cheese,
and sausage into the
mixing bowl and combine
in just a few minutes!
Then roll them into balls
and place on a lightly greased
baking sheet…
Pop that pan in the oven on
and watch them turn into the best
little sausage bites that you'll ever
devour in a few minutes flat!
Later, someone will say,
"I love your lip gloss!"
and you can reply,
"Thank you, it's sausage grease!"
Well…
maybe you don't have to go
"that" far!
I recently tried the new recipe on
one of my morning catering jobs…
They advised afterwards that
everything was great, but…
the Sausage Bites were devoured
in no time flat!
Sucess!!
Print
Red Lobster Biscuit Sausage Brunch Bites Recipe
1

box Red Cheddar Bay Red Lobster Biscuit Mix

16 oz

roll regular Jimmy Dean regular or hot sausage–depending on your taste

2 cups

cheddar cheese, shredded

2 cups

Monterrey Jack Cheese, shredded

4 oz

cream cheese, room temperature
Instructions
Preheat oven to 350 degrees; slightly spray 2 large baking pans with nonstick spray.
Roll the mixture into 1″ balls and place a small amount apart.
Bake for 25 minutes until done.
Place paper towels on cooling racks and move the sausage bites on there to cool.
Remove to serving bowl or tray and enjoy!