Coconut Cake was one of my Granny's favorites and I used to bring it to every Mother's Day get-together.
This cake was my most requested cake this Mother's Day as I have created the best of both worlds
by combining coconut cream pie filling and coconut cake!
Coconut lovers…you are so very welcome!
[ingredients]
[method]
Let's get started!
Bake those cake layers and then let them cool completely!
Since I think the filling is the best part…here's the pictures!
In a heavy saucepan, whisk together 1/2 cup sugar, 1/4 cup cornstarch and 1/8 tsp salt…
In a large bowl, whisk together 4 egg yolks, 1 cup half & half, 1 cup coconut milk;
pour into the saucepan with the dry ingredients…
Cook over medium heat, whisking constantly about 6-7 minutes, until the mixture starts to bubble…
Cook, whisking constantly, 1 more minute and remove from heat..
Stir in the butter and extracts until smooth…
Then add the coconut…
Remember to pour it in a bowl, place plastic wrap directly on the filling and chill at least an hour…
When cool, assemble like so…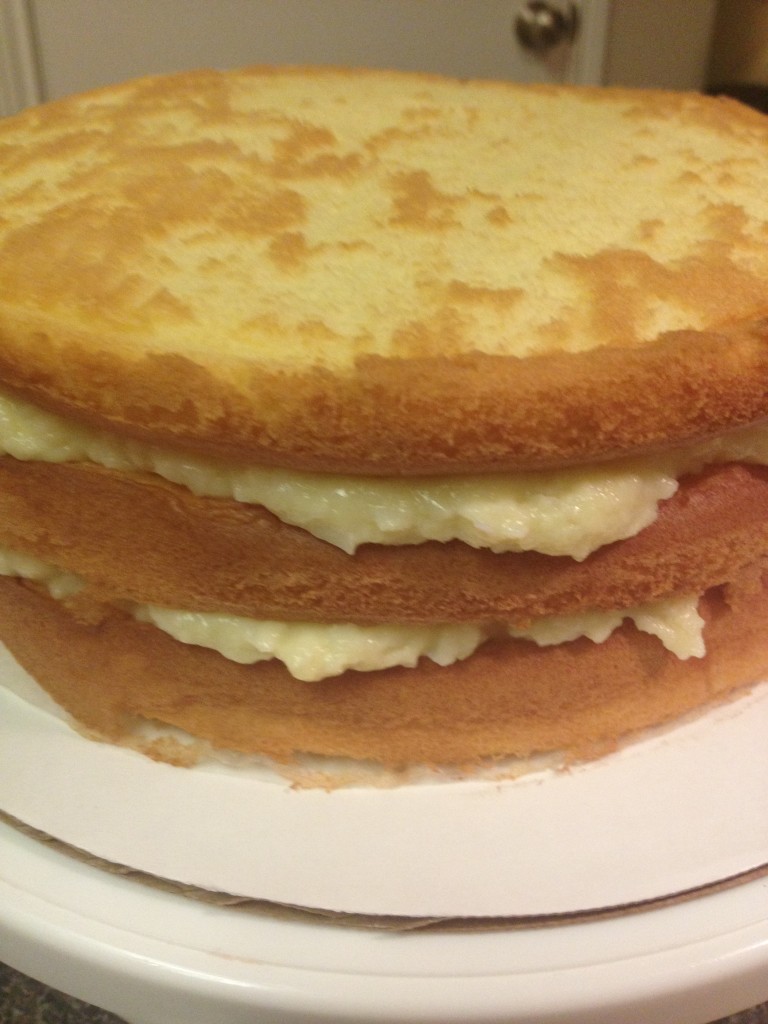 Make that beautiful white fluffy frosting…
Add the coconut to the top and sides…
I saved a little dollop of each for my garnish…
Refrigerate a couple of hours or overnight and enjoy!