Conecuh Sausage… Be still my heart!
We had a coworker tell us recently that he'd never had them…
The phones stopped ringing…we all stared with our mouths open…
I believe a few people fainted…
Bless his heart … He's from Virginia..:))
The next day, we brought in a breakfast spread complete with biscuits, gravy, grits and Conecuh Sausage …
He said he loved it all but I think he was frightened to say anything else!
Now we've added these amazing sausage to our cornbread making it a great side for a bowl of soup or just a meal in itself!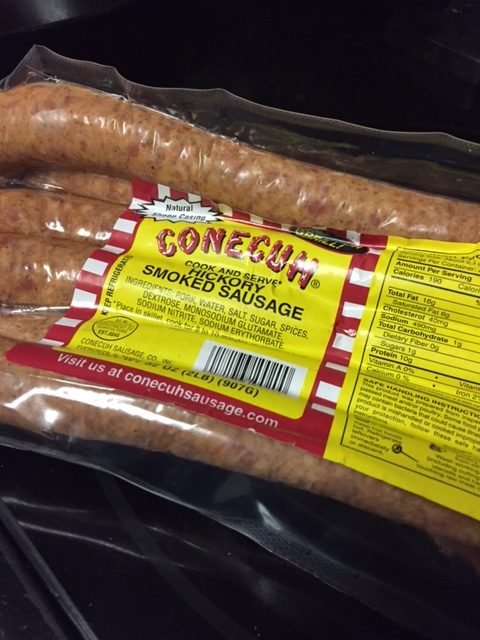 The beginning of something beautiful!
Fry up about 1/2 pound for the cornbread and 1/2 lb for snacking on 😉
When done, set aside to cool…
In a large bowl, mix the cornmeal mix, eggs, buttermilk,
green onions, cheese, oil…
Then chop up the 1/2 lb sausage you fried and add to the batter…
In your 9 inch cast iron skillet, pour 1/8 cup oil and place skillet in 425 degree oven for about 5-7 minutes…
Remove and pour batter into hot skillet…
Return to oven and bake 20-25 minutes until cornbread is lightly browned…
Enjoy!
Print
Conecuh Sausage Cornbread Recipe
1/2

lb Conecuh Sausage cooked and chopped

2 cups

cornbread mix–I used White Lilly

1 1/2 cups

buttermilk

1/4 cup

oil

1

egg

2 TBSP

sugar

1 1/2 cups

shredded cheddar cheese

1/3 cup

chopped green onion
Instructions
Preheat your oven to 425 degrees.
Spay your skillet with nonstick spray and pour the 1/8 cup oil in it.
Set skillet in oven for 5-7 minutes to heat up.
In a large bowl mix all the cornbread ingredients.
Pour your batter into the hot skillet.
Bake on 425 degrees for 20-25 minutes.