I adore my daughter-in-law, Amy. She adores tacos…
I recently gave her a t-shirt that says, "I Wonder if Tacos Think About Me Too"!
That is certainly a valid thought! Tacos are just an all around perfect food for any time of day or night…
Classic tacos with many toppings or tacos like my grands love them with meat and cheese only!
And now that it's spring — if you're like the rest of us– trying to get "summer-bod' ready…
This recipe gives you a way to enjoy your favorite Mexican fare without the guilt–
And it's delicious to boot!
In the past few years, I've tried to incorporate more avocados into my diet. Check out the following article for the many benefits of this amazing fruit…
Everything You Need to Know About Avocados + 15 Science-Backed Reasons to Eat These Fabulous Fruits
I sliced my 3 avocados and removed the pits…scoop out most of the fruit leaving just enough to keep the shape to fill with the good stuff!
I added the avocado pieces to a small bowl and tossed it with some lime juice to help preserve the beautiful green color…
Add your prepared taco meat…
toss on some shredded cheese…
top that goodness with
some shredded lettuce…
now add a bit of taco sauce or salsa…
top with your saved avocado,
some gorgeous tomatoes,
now dollops of sour cream
and just a bit more cheese…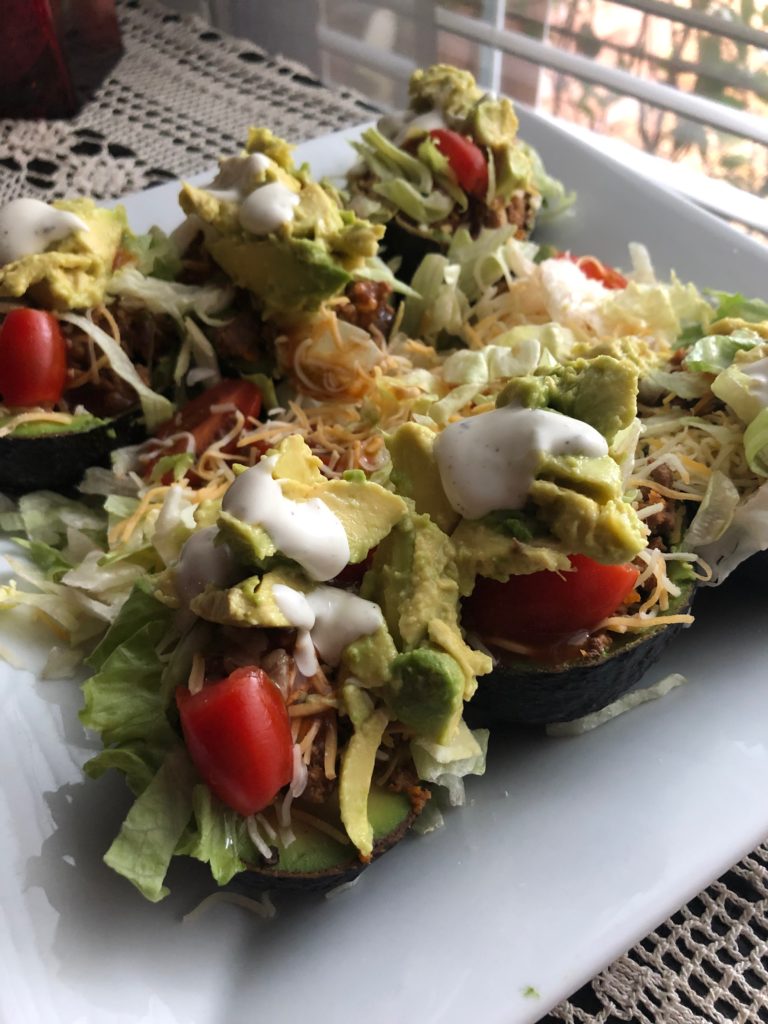 I placed the remaining topping ingredients down the middle of the serving tray just in case we needed more of that deliciousness to munch on!
Be still my heart! What a beautiful, healthy feast to serve and enjoy! This would be a wonderful dish to serve for a easy weekend brunch with the girlfriends or to serve out by the pool on one of these beautiful spring days…
I don't think you'll even miss the taco shells!
Print
Stuffed Taco Avocados Recipe
1/2

lb hamburger meat, cooked and drained

1

pkg taco seasoning

3/4 cup

water

3

avocados

3 TBSP

Lime juice
Toppings: Shredded lettuce, diced tomatoes, Shredded cheese, taco sauce, salsa, sour cream
Instructions
In a skillet, cook hamburger meat until done and drain.
Add meat back to skillet and pour in taco seasoning and water; let simmer about 5 minutes and remove from heat.
Cut the avocados in half, removing the pit.
Scoop out most of the avocado flesh but leaving enough for the avocado half to retain it's shape; add to a medium bowl.
Toss the avocado pieces with the lime juice.
Fill the avocado shells equally with the taco meat.
Add some shredded cheese and lettuce; pour on some taco sauce or salsa.
Top with avocado pieces, tomatoes, sour cream and more cheese.
Enjoy!