I'm so excited for fall!
I'm looking forward to cooler weather, boots and cozy sweaters…
But, I'm most most most excited for a treat that comes with the Great Pumpkin each year ….
Yes! Pumpkin Shaped Reese's Peanut Butter Cups!
The Reese's Easter Eggs are my very favorite…but when that stash is all gone, too quickly I might add …
it's six or seven months until the pumpkins appear!
Thats just not right my friends…
And even though I haven't spotted any yet, I just couldn't wait to try and perfect these brownies!
As soon as those perfect Pumpkin Reese's appear, I'll have to make another batch and compare…
It's ok my friends…somebody has to do it!
I made this really easy by grabbing a favorite brownie mix and combining the ingredients on the box directions…
I made the 8×8 pan size..
I regrettably bought only the 8 pack of Reese's….as you see, another package was needed to fill up those empty spaces…
Reese's Peanut Butter Cups were much larger in another time….
It is a sad sad truth..nevertheless, we press on…
Now use the remaining mix to spread over the Reese's …
Now throw the Peanut Butter M&Ms on top with wild abandon…
After baking on 350 degrees for 35 minutes they will look very promising like this!
The M&Ms kinda melt into the brownies and they won't look AS pretty as they once did…but…
the utter deliciousness will not change one little bit!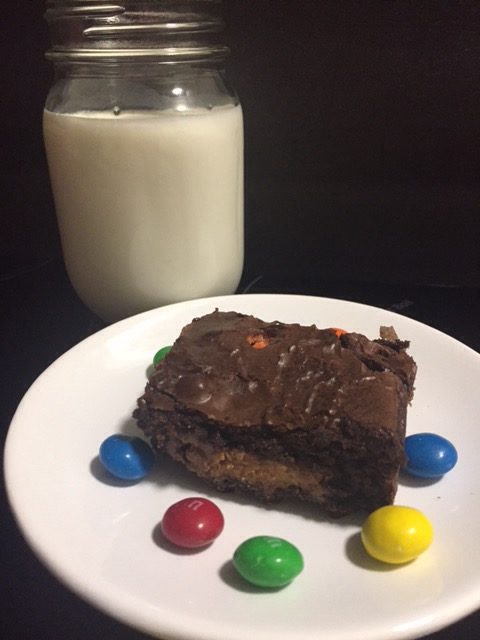 My son Daniel said they were at their absolute gooey peanut butter and chocolate perfectness while they were warm…
But my nephew Blake tried them after they had cooled and said they just couldn't be any better than that!
So my friends, I believe with a cold glass of milk, either way you enjoy them is going to be a win win situation !
I love happy endings!!
Print
Peanut Butter M&Ms and Reese's Stuffed Brownie Recipe
1

box of brownie mix of your choice plus ingredients to make an 8×8 pan

16

regular size Reese's Peanut Butter Cups or the Reese's Peanut Butter Pumpkins

1 cup

Peanut Butter M&Ms
Instructions
Preheat oven to 350 degrees. Mix brownies according to directions on box.
Spray your 8×8 pan with nonstick spray.

Spoon 1/2 the brownie mix in the pan evenly.

Place the Reese's Peanut Butter Cups on top of the mix.

Spoon the remaining 1/2 of the brownie batter over the Reese's.

Place the cup of Peanut Butter M&Ms over the top of the batter.

Bake for 30-35 minutes.

Cool for 10-15 minutes, cut and enjoy!