Long ago…in an earlier part of my life…I loved making Bananas Foster for my closest group of friends when we got together…
While creating some new tastes for Mardi Gras this year, I think I've hit on a marriage made in Creole Heaven!
I've combined the deliciousness of Bananas Foster with that southern favorite–Banana Pudding!
The finishing touch was gluing it all together with those amazing Biscoff Cookies that are just a perfect match with their touch of cinnamon!
Happiness begins in the pan like this!
Then when all melty and such… It's time to add the rum…
You'll break up your cookies and start layering…
Oh my!!
Oh.. And these are the AMAZING Biscoff Cookies…swoon…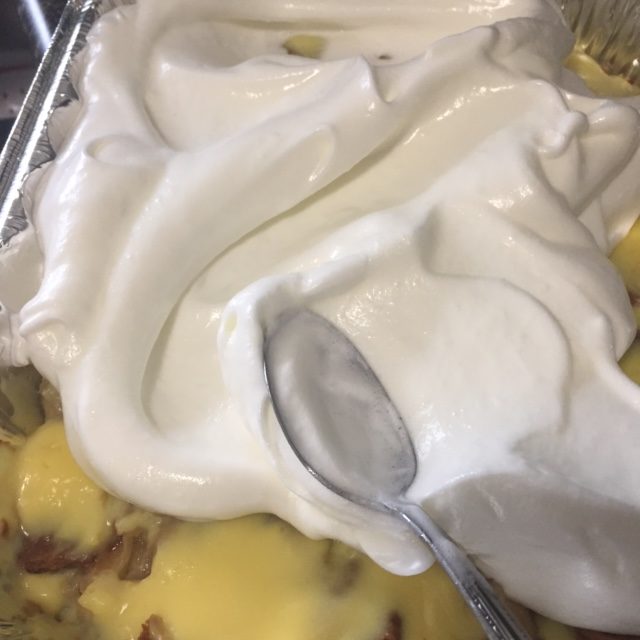 Spread on that creamy meringue…
After baking and achieving the beautiful brownness..
I sprinkled on a little cinnamon for good measure!
Enjoy!
Print
Lisa's Biscoff Banana's Foster Pudding Recipe
For the Bananas Foster:

6

–

8

medium bananas

1

stick butter

1/2 cup

dark rum

1/2 cup

dark brown sugar
For the Pudding:

2 cups

whole milk

6

large eggs, separated

1 1/4 cups

sugar, divided

1/4 cup

cornstarch

1/4 tsp

salt

2 TBSP

butter
Instructions
Making the Bananas Foster:
In your large frying pan, on medium low heat, melt butter and brown sugar.
When melted completely, add sliced bananas; gently stir to coat. Add the rum and let bananas soak up the flavors about 10 min on low.
Remove from heat and allow to cool a bit while you prepare the pudding.
Making the Pudding:
In a medium saucepan, heat the milk to a mild simmer.
In a second medium saucepan, whisk egg yolks with 3/4 cup sugar until thick and light.
Add cornstarch and salt and stir till smooth.
Whisk milk into egg mixture, stirring briskly till smooth.
Heat until thick over medium heat, whisking constantly, about 3-5 minutes.
Add vanilla and butter and stir.
In a 9×13 dish, place a layer of Biscoff cookies that you've broken in half,
Add a layer of the pudding and then a layer of the Bananas Foster; repeat for another layer.
Make the Meringue:
In your mixer with your whisk attachment, beat the egg whites until soft peaks form.
Gradually add the remaining 1/2 cup sugar, beating until stiff peaks form.
Spoon meringue over pudding, sealing the edges and making swirls and dips with the back of your spoon.
Bake on 350 degrees 20 minutes until meringue is a beautiful brown.
Enjoying while warm is my favorite!