L
We had our family Christmas party a little early this past weekend…
my daughter in law and I try to plan it this way so that the kids
aren't bombarded with so much Christmas in just a couple of days!
I'd thought I'd share a few is our party recipes
in this post that were quick and easy!
[ingredients]
[method]
*********************************
Our Easy Party Punch
1 bottle Simply Orange Juice
1 bottle Simply Orange with Pineapple
1–2 liter Sprite—well chilled
I placed the juices in the freezer about an hour
before I was going to make the punch.
When ready to assemble,
pour the juices along with the spite into your punch bowl.
add ice cubes and enjoy!
****************************
Rolo Delights
1 bag Rolos-unwrapped
1 bag square pretzel snaps
2 cups pecan halves
ghiradelli white chocolate melts
ghiradelli chocolate melts
red and green candy melts
Preheat oven to 350 degrees.
On your baking sheet fill with the pretzel squares.
place a Rolo on each square.
place baking sheet in oven for 3-4 minutes.
Remove from oven…working quickly,
press a pecan half into some of the Rolos.
Onto remaining Rolos, place another pretzel on top
and press down a bit.
Place in refrigerator until they firm up.
Now melt 1/2 cup each chocolate melts, 1 at a time, and decorate Rolos by dipping in various colors and drizzling with various colors.
You can certainly let your creativity fly on this one!
Mom is my Rolo unroller!
Place a Rolo on each pretzel square…
After a few minutes in the oven…
Push a pecan half in some of the Rolos…
Press a cracker down into some of the Rolos…
Use the melted chocolate to dip each pretzel half…
Drizzle some of rah white chocolate on the pecans…
Lets add some color!
Gorgeous and delish!!
**********************
Redneck Toffee
2.1/2 sleeves Saltines
2 sticks butter
1 cup brown sugar
1 cup chocolate chip minis
1 cup toffee bits
1 cup chopped pecans
Preheat oven to 350 degrees.
Place saltines in solid layer on baking sheets.
Bring butter and brown sugar to a boil;,let simmer 3-4 minutes.
Pour over crackers on baking sheets.
 Use a pastry brush to make sure all crackers are covered.
Sprinkle the toffee, pecans and chocolate chips
evenly over the crackers.
Place in oven 3-4 minutes; Remove and let cool completely.
The beginning of something wonderful!
Play the saltines on the baking sheets…
Pour on the deliciousness…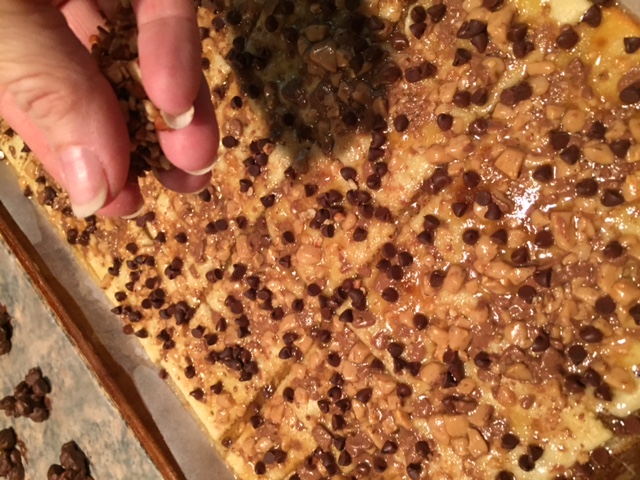 Sprinkle with toffee chips…pecans and mini chips…
Pop back in the oven 3-4 minutes …remov and let cool…
store in airtight container.