When I prepared the food for 
my nephew's wedding recently,
I was looking for some delicious little treats that would
hold up in the heat since it was an outside venue.  
These 3 light little appetizers maybe appreciated 
at some of your summer events.  


Caprese Appetizers

These tasty little Meat and Cheese rolls 
that I found at Sams Club
make the beginning of a wonderful little appetizer tray.  
I paired them with delicious little red and yellow 
sweet tomatoes and stuffed olives…
poured a wonderful basil vinaigrette marinade on top…
Heaven on a toothpick…a fancy toothpick that is!  🙂


Basil Vinaigrette
1 Tablespoon White Balsamic Vinegar
1 Scallion, finely minced
In a medium glass jar, add all of the above 
ingredients and shake well. 
 Let sit at least 30 minutes to let the flavors develop.


Assorted Cream Cheese Crescents

I love the little flavorful whipped cream cheese selections.  
Paired with crescents and cut into spirals…
they bake into a delicious little treat!

For this event I used the Jalapeno Cream Cheese 
and Smokey Chipotle.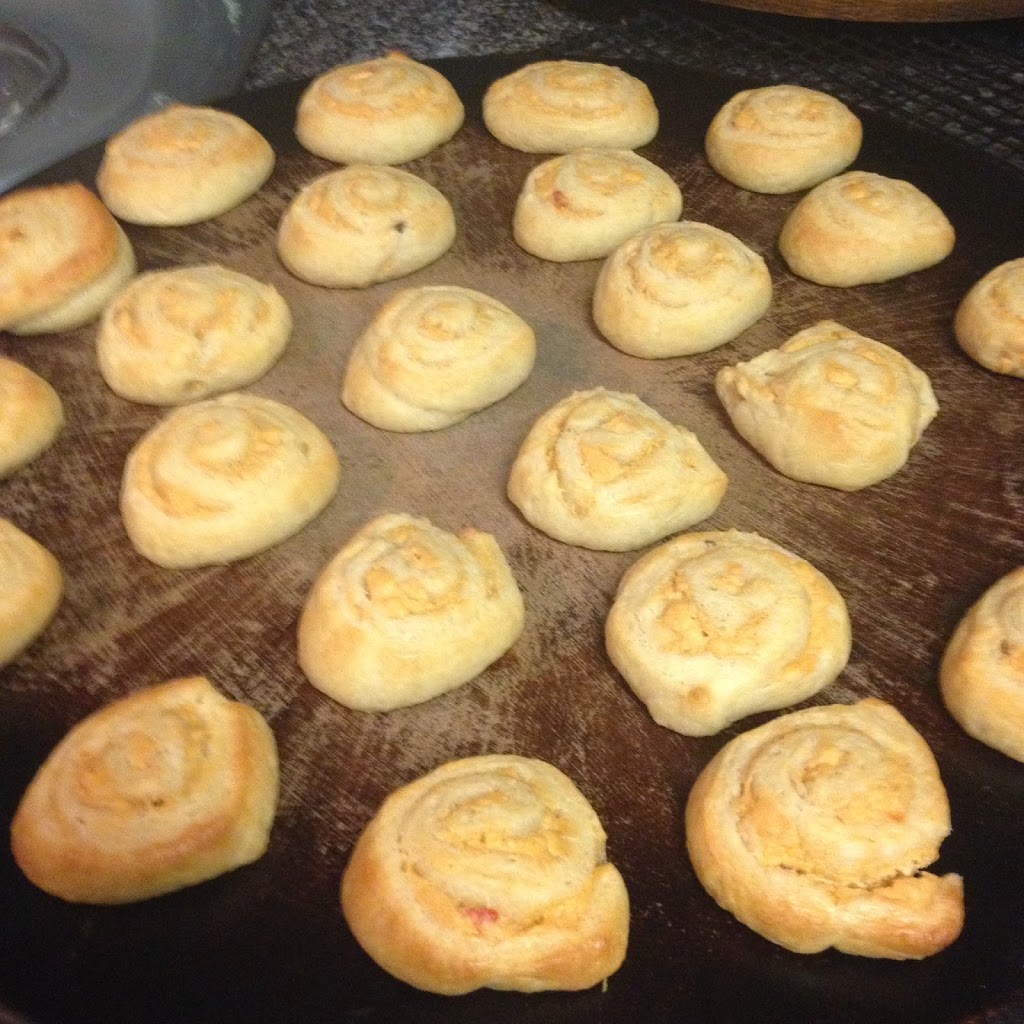 Lisa's Southwest Chicken Salad Tortilla Twirls

I created this chicken salad this past Christmas 
and it was an immediate hit!
Using assorted Flatout Bread or Tortillas helps 
make a scrumptious little tray.  

This time I used the Spinach Wraps and Jalapeno Wraps.  
I think they work better on the Flatbread 
because there is no waste…
When you use tortillas, you do loose about 
1/2 inch or so on each end.  
But either way, they're a winner!
We usually place our chicken breasts in a roasting pan, 
season it with salt and pepper, cover it,  
and roast it at 425 degrees about 1 hour until done.
Because of time constraints this time, I put the chicken in the crockpot and left it there to roast about 6 hours.  
I used the food processor to shred it 
and it still turned out wonderful! 
Let cool before mixing in the remaining ingredients.
2 – 8 oz. packages cream cheese, softened
1 1/3 cup shredded Mexican blend cheese
1/2 tsp Cayenne pepper to taste
1 lb chicken breast, roasted and shredded
1/2 bunch cilantro, chopped
1 pkg Sun-dried Tomato Flat-out Wraps
Mix cheeses together until well blended.
Add all remaining ingredients and mix well.
Cover and refrigerate for at least one hour.
Place one heaping spoonful onto tortilla.
Spread to edges using a metal spatula.
Roll, wrap and refrigerate about 30 minutes or so.  
Cut into slices and serve.
This is my very favorite picture from the wedding…
when I was a teenager, I can still remember him 
sitting at the bar watching my Momma cook 
and asking her to make "Bowanna Pudding"  … 🙂