You all know how much I love my crock pot…chicken…tortillas…toppings and such…
so….needless to say, 
this was a quick and easy recipe and 
we enjoyed carnita wraps for a few days!  
And what's even more exciting….is that the delicious stock the chicken and seasonings made,  looked, smelled and tasted so very very good that I saved it for a soup that I had in mind–
Bonus recipe included after the Carnitas…Enjoy! 
Slow Cooker Chicken Carnitas
1 lb chicken breasts
3 cloves garlic, minced
1 tsp cumin
1 tsp oregano
1/4 tsp salt
1/4 tsp pepper
3/4 c orange juice
2 TBSP lime juice
2 chipotle chilies canned in adobo sauce, drained and chopped
tortillasToppings:  salsa sour cream cilantro lettuce tomatoes  shredded cheese
In a slow cooker, combine all the ingredients 
except the topping ingredients. 
Let this cook on low for 8 hours. 
Once it is cooked, shred the chicken with a fork. 
Stuff the tortillas with the chicken and top with sour cream, tomatoes, lettuce, cilantro, salsa, and cheese.
********
The delicious ingredients…
Place the chicken in the crock pot and 
add the spices, garlic, cumin…
Drain the adobo peppers and add them to the chicken…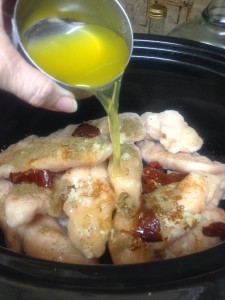 Cook on low for 6-8 hours until it is fork tender…shred…
Serve on tortillas with toppings of your choice…
Enjoy!
This was the bonus to the Carnitas recipe! 
This wonderful stock and shredded chicken pieces 
were left in the bottom of the crockpot.  
I bagged and refrigerated it for a couple of days 
until I was ready to put my soup together.  
I placed it in a large stockpot, added 1 can of petite diced tomatoes and I can of black beans, drained and rinsed.  
I simmered it about 30 minutes and dinner was ready!  
You can serve it with saltines or tortilla chips 
and like the carnitas, with any topping you choose. 
Hope you'll save your stock an try it as well!  🙂
It is my new favorite soup…
Yum!