If you were sure a coconut pie couldn't get any better, 
I'm about to prove you wrong!
This easy recipe recreates the memory of that 
wonderful cookie we enjoy every spring 🙂
Lisa's Easy Samoa Coconut Cream Pie
Crust
1 Keebler Chocolate Graham Cracker Crust
Coconut custard
1 (13.5-14 ounce) can unsweetened coconut milk
1 cup whole milk
⅔ cup sugar, divided
½ cup coconut
1/4 tsp salt
5 egg yolks
 1/4 cup cornstarch
2 TBSP butter, unsalted
1 tsp vanilla
1 tsp coconut extract
Caramel
1/2 cup caramel ice cream topping or any other 
caramel of your choice 
Topping
8 oz cool whip
1/2 cup coconut, toasted
1/2 cup chocolate chips melted with 1 tsp vegetable oil
For the coconut custard:
In a medium saucepan, whisk together coconut milk, 
milk, ⅓ cup sugar, coconut, and salt. 
Bring to a simmer over medium heat.
While the milk mixture is heating, whisk together egg yolks, cornstarch, and remaining ⅓ cup sugar 
in a medium bowl until smooth.
When the milk mixture is simmering, slowly ladle about 
1 cup of the milk mixture into the eggs, whisking constantly.   
Pour the tempered egg mixture back into the saucepan 
with the simmering milk and whisk for 30 seconds over 
medium heat, until the mixture begins to thicken and sputter a bit. 
Remove from heat and stir in butter and vanilla.

Stir the custard occasionally for the next five minutes 
while it cools to prevent a skin from forming. 
Pour into your pie shell. 
Press plastic wrap against the top of the custard, 
and place the pie pan into the refrigerator to cool for 2-4 hours.
To Assemble:
Pile whipped cream on top of the custard and gently distribute with a rubber spatula or the back of a spoon. 
Drizzle caramel sauce over the whipped cream, covering as much of the surface as possible.  
Sprinkle the top with toasted, sweetened coconut.
In a microwave safe bowl, combine the chocolate chips and oil.  Heat, stirring every 30 seconds until the chocolate is melted.  I then poured mine in a baggie and cut a corner off to drizzle over the pie.  
Chill overnight and enjoy!
The delicious cast of characters…
In your saucepan, pour the sugar…
the milk, the coconut milk, the coconut…
In another bowl, add the egg yolks, and sugar…

Stir until silky smooth…
I did not get a picture of the "tempering" part…
that all happens so fast…
so just follow the tempering instructions in the recipe and 
you will end up with a delicious coconut custard like this!
Add the butter and vanilla…
Pour into your pie shell…
Press the saran wrap into the custard…
Meanwhile toast the coconut…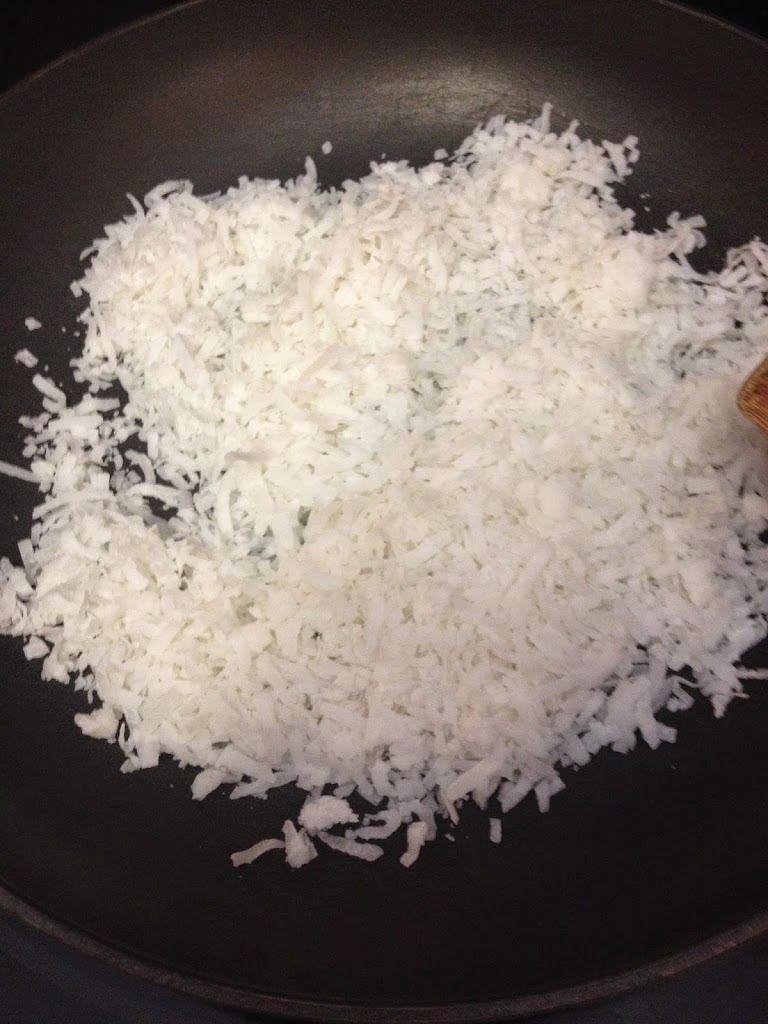 Layer the whipped cream over the custard…
Pour the caramel over next…
And drizzle with the melted chocolate…