Thought I'd take the time this morning to share a most 
delicious recipe we created over the Christmas holidays.  
It would be great to serve at your 
New Year's Eve party tonight!  🙂   
We love Chicken Salad, but wanted a twist on our 
original one we serve sandwich style.  
This turned out to be our most favorite recipe this season!  
Of course, some of the pictures are out in 
"No

–

man's cyberland" somewhere…
One day I may just get it all together…
But, most of the important ones are here…we hope you enjoy!
*******************************************************
Fried Pies & Fireflies Signature 
Southwest Chicken Salad Twirl
s
2 – 8 oz. packages cream cheese, softened
1 1/3 cup shredded Mexican blend cheese
1/2 tsp Cayenne pepper to taste
1 lb chicken breast, roasted and shredded
1/2 bunch cilantro, chopped
1 pkg

Sun-dried

Tomato

Flat-out

Wraps
Mix cheeses together until well blended.
Add all remaining ingredients and mix well.
Cover and refrigerate for at least one hour.
Place one heaping spoonful onto tortilla.
Spread to edges using a metal spatula.
Roll, wrap and refrigerate about 30 minutes o

r so

.  
Cut into slices and serve.
My

boys

really loved it topped with chopped Jalapeno.  
Apparently, the "p

utting it all together pictures" 
are the missing ones…so picture this..
We

placed our chicken breasts in a roasting pan, 
seasoned it with salt and pepper

, covered it, 

 
and r

oasted it at 425 degrees about 1 hour until done.  
We wanted our

chicken

finely chopped, 
so we used our food processor to shred it.  
Set it aside to coo

l a bit.  
Take those wonderful packages of cream cheese and the shredded cheese and mix it together with your mixer until blended.  
Add the spices,

garlic,

cilantro, green onions 
and chicken and blend until creamy.  
Put in in a container and refrigerate about 1 hour.  
Ok, here's the pictures that made it!
Take the container out of the refrigerator 
and get that lovely

Flat-out

Bread ready…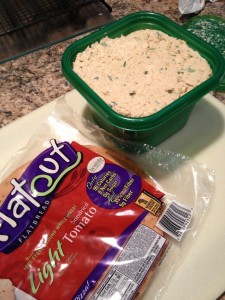 Spread a good but thin amount to the edges of the wrap…
We then wrapped them and refrigerated them again 
This makes them a little easier to slice…
Those raggedy end pieces that aren't so pretty
…
YOU can eat them!  
Yes, YOU!
while you are cutting the rest of the roll
 into the pretty slices to display!  
Life is good! 
This is a weird, sideways picture of them…I don't know why…
Ahhh….the finished platter…

isn't

it pretty?  🙂
My boys enjoyed them topped with Jalapenos…it was delicious!